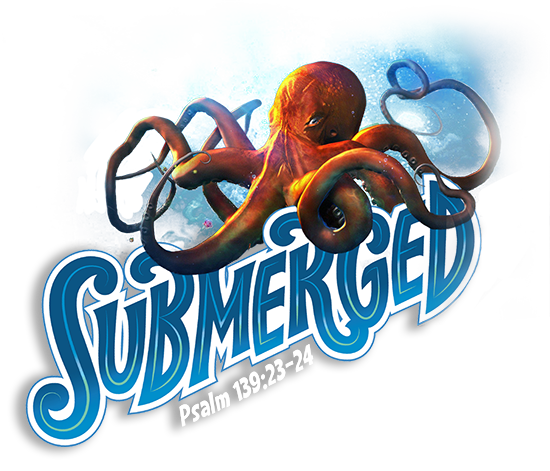 Summer XP is an adventure like no other, deep within the mysterious sea. As kids submerge themselves in God's love, they will discover that Jesus didn't focus on the outside – Jesus cared about the inside. It's going to be an action packed week full of crazy skits, fistfuls of candy, new friends, and a whole lot of slime. Summer XP is for kids entering grades 1 – 5 in the fall of 2017.
"Search me, God, and know my heart; test me and know my concerns. See if there is any offensive way in me; lead me in the everlasting way." // Psalm 139:23-24
Sunday – Tuesday
5:45 – 6:00 PM Drop Off
6:00 – 7:00 PM Main Session
7:15 – 7:30 PM Zany Time
7:45 – 8:30 PM Small Groups
8:30 PM Pick Up

Wednesday
5:45 – 6:00 PM Drop Off
6:00 – 7:00 PM Main Session
7:15 – 7:30 PM Zany Time
7:45 – 8:00 PM Small Groups
8:00 PM Pick Up
8:15 – 8:45 PM Closing Ceremony (with parents)
8:45 PM Farewell
If you'd like to volunteer to help make Summer XP 2017 happen, then you can sign up here.
Sunday – Crazy Hat
Monday – Fanatic Night
Tuesday – Duct Tape
Wednesday – Crazy Socks
What happens if I lost my pick up sticker for my child?
See the Information Center located by the front entrance.
What if I am dropping my child off and someone else is picking them up?
Let the check-in staff know and they will assist you.
What if I'm running late?
We understand life happens. If you're running late, then your child will be moved to the late pick-up area located in the Chapel.
Where can I get a Summer XP shirt?
Shirts are available for $7 at the Summer XP booth after weekend services.
How does my child get entries for the family prize drawings?
Each day your child attends Summer XP they are automatically entered.
Is there food provided?
Each day there is a snack time.
For any additional questions, feel free to contact Ashlyn at aroberts@foxriverchristian.org.