(RE)celebrate Valentine's Day with us!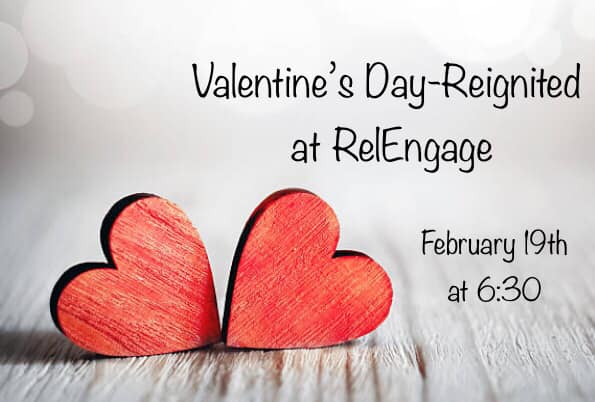 All married couples welcome. Newbies to graduates and all the couples in between!
Invite a another couple to join you. Childcare is free and there will be treats, games, prizes, and more!
Let us know you're coming here.
Re|Engage is an enrichment program for married couples who are finding that their communication keeps coming up short, or those who are not sure if they even want to be a marriage anymore, or those that are looking to grow closer as the years go on. Re|Engage is a safe place for couples to find hope, passion and a new way forward.
Re|Engage features a time of worship, lessons about enriching your marriage and experiencing grace, stories from married couples across the spectrum of life, and a variety of small groups. There are small groups for those are just checking it out (and don't worry, nobody is going to force you to talk) and there are small groups consisting of 4-5 couples for those who want a space to share openly about life and love and the struggles of it all.
No registration is required for Re|Engage, so drop on by and check it out.
When: Tuesdays at 6:30 PM
Where: Waukesha Campus
Cost: Free to attend
Childcare: Yes