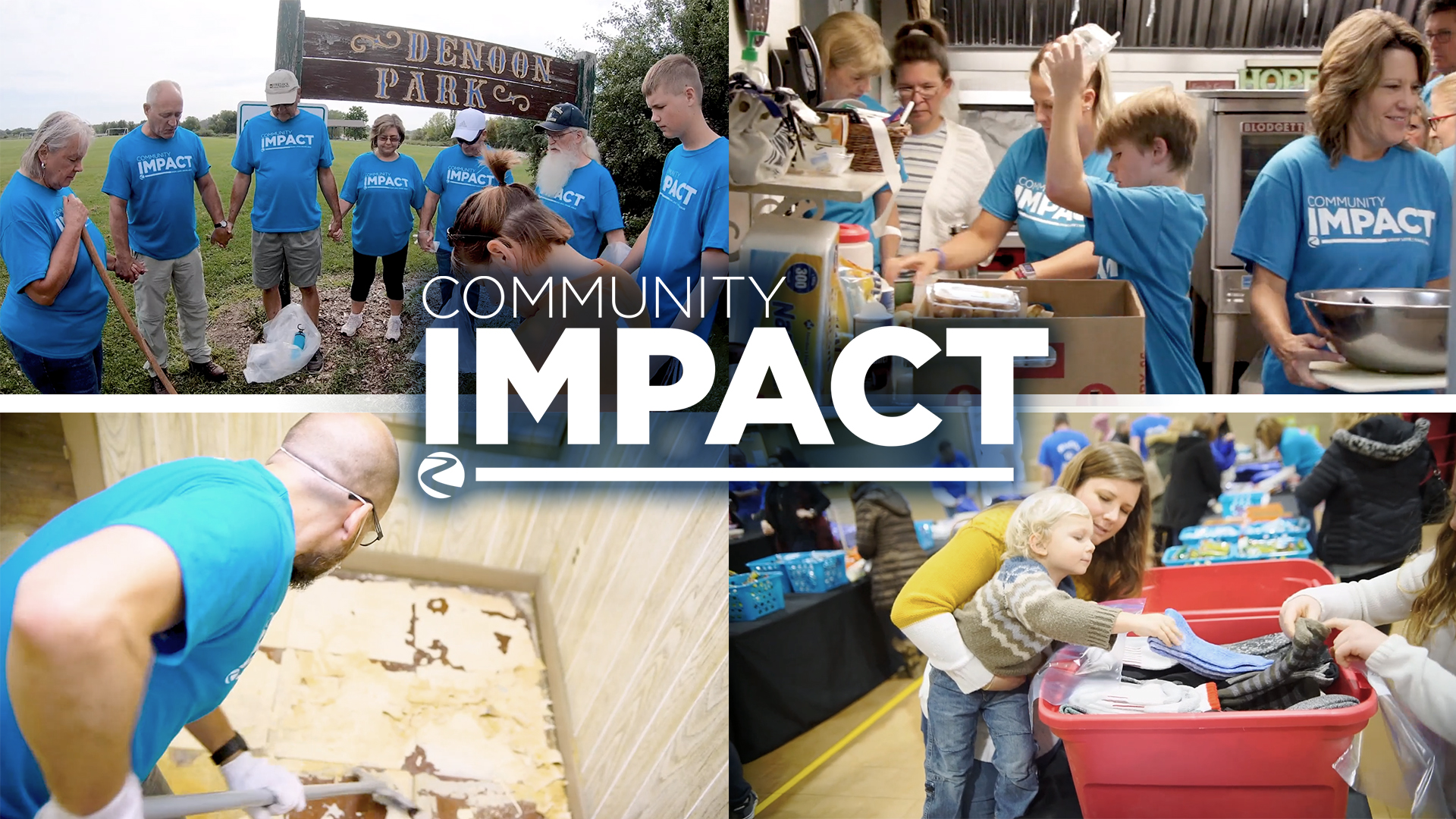 Would you like to make a Personal Impact?
Take a look at the monthly Personal Impact Challenges you can do on your own!
By God's grace, Fox River is making an impact in our communities by showing love and sharing Jesus. Check out the information below to learn more about how you or your group can make an impact.
The King will reply, "Truly I tell you, whatever you did for one of the least of these brothers and sisters of mine, you did for me." Matthew 25:40
"We, as the church, exist as a part of our community; it is time to be a part of it in new ways! Our mission is to help, love, and be like Jesus in every way possible." 
Pastor Bill
Opportunities To Make An Impact
These are the easiest ways to jump in quickly to make a difference! Everything is already established. Simply register, arrive at the common meeting place/time and enjoy the gift of giving your time and service.
Second Saturday
On the second Saturday of every month, Fox River Impact Teams go out into the community to show love and share Jesus. You too can make an impact! Join us as we serve alongside local organizations in our communities. Get involved here.
Milwaukee Rescue Mission
Help us bring Fox River to the Milwaukee Rescue Mission. Join an Impact Team on the second Friday of every month as we provide a worship experience, including music and a message, for the individuals in which the mission assists. Get involved here.
Good News Club
Community IMPACT has a great opportunity to share the love of Jesus with students at Heyer Elementary through the launch of "Good News Club"! Join an IMPACT Team as we extend our walls into the community. Get involved here. 
Blood Drives
Fox River Christian Church partners with the BloodCenter of Wisconsin to provide blood to local hospitals in need. Sign up for an upcoming drive here.
Zumba for a Cause
Come join us for a fun, cardio workout to Latin dance rhythms and support a different cause each month. Exercise classes for all fitness levels. Saturdays @ 8:00AM, and Tuesdays @ 5:45PM at the Waukesha Campus.
Redeem & Restore
Human trafficking is a real problem – closer to home than you think. Redeem and Restore exists to love, restore and support women escaping from domestic sexual exploitation or trafficking. Sign up to volunteer here.
Community Partners
Organizations that Fox River partners with and supports prayerfully, physically and financially. Together, we are making a shared effort to have even greater impact for Christ in our community as we work alongside one another.
Misfits For Jesus Offering hope, peace and belonging through the grace, mercy and love of God. Redeem & Restore Committed to the prevention, intervention and restoration of women and girls that have been stolen and trapped into the sex trafficking industry in the United States. Love Inc. Dedicated to helping families and individuals live better, more productive lives.
Serving Partners
Organizations that have opened their doors to Fox River, allowing us to help them and love those they serve.
Hope Center
Serving the basic needs of financial assistance, food and clothing in Waukesha County for more than 30 years.
Waukesha Food Pantry
Providing food, hope and dignity to county residents in need, and advocating to increase awareness of hunger through community partnerships.
Muskego Food Pantry
Feeding the people of the Muskego area and treating them with dignity, respect and compassion.
Mukwonago Food Pantry
Providing food and support to individuals and their families, facilitating their development.
10K Experiences
Community IMPACT teams allow our Fox River family to Show Love and Share Jesus in our local neighborhoods. Through Community IMPACT we are also able to live out the Momentum initiative to pray, live and give in new ways. In addition, it allows God to write the stories that unite us in the Gospel, and create experiences in which people will come to know God, find freedom, discover purpose and make a difference. What stories is God allowing you to write through Community IMPACT? Please share here!