Second Saturdays
On the Second Saturday of every month, we have an incredible opportunity to show love and share Jesus in our community by serving with local organizations. To participate, meet at the Waukesha or Muskego campuses to enjoy some coffee and donuts before heading out for a morning of serving. There is no need to register before, just show up and make an impact!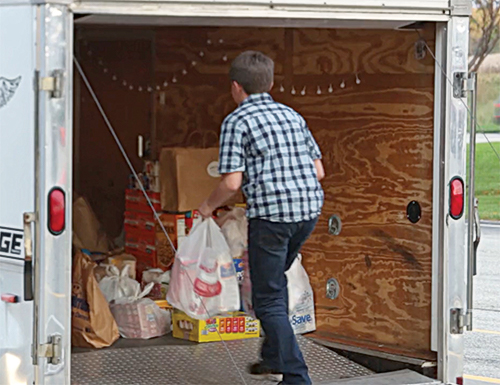 Waukesha
Participants meet at the Waukesha campus between 8-8:15 am. Participants ride to most serving sites together on a bus, which leaves at 8:30 am (select sites are not on the bus route). The bus returns to church around 11:45 am and after a quick recap, participants are typically done by 12 pm.
Waukesha sites: Oak Hill Terrace, The Hope Center, The Waukesha Food Pantry, Habitat for Humanity Re-Store, LifeStriders
Muskego
Participants meet at the Muskego campus at 8:45 am, and drive their own cars/carpool with others to the serving sites until approximately 11:15 am.
Muskego sites: Regency Senior Center, Muskego Food Pantry, Muskego Health Care Center
Waterford
Participants will meet at Love Inc., from 9:15 – 12:30 pm serving together in the retail store sorting and hanging spring items.